Colt Moving is delighted to partner with UNITs Moving and Portable Storage of Indianapolis to provide you with the labor for your move. We have complimentary core values with UNITS of Indy, and we've found that we can complement each other's business as well.
We are pleased to offer you an exclusive rate of $153 per hour, which is a 10% discount from our standard price ($170 per hour) for moving your household goods into a UNITS container.  This rate includes two of our athletic movers and all equipment needed. Furniture pads, shrink wrap, dollies, straps, bands, and a tool set are included. We start the hourly rate when we arrive onsite, NOT when we leave our lot. We go over the contract options when we arrive and note down that time. You will only be charged for the total time used to load, transport and unload. Any time used for getting gas, or a lunch break, will be deducted from the bill. 
We have a one time gas/mileage fee of $3/mile, round trip, from our truck lot (1310 W IN-32, Westfield, IN 46074). This cost is determined using Google maps total mileage with each stop included. 
Specialty Items –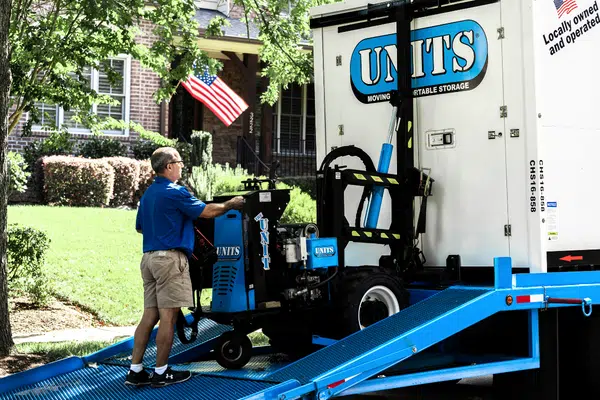 Pianos, gun safes, fire safes, treadmills, elliptical, double door refrigerators, washer/dryer, hot-tubs, or items over 400lbs have a $100 fee and often require a 3rd mover. To add a third mover, the rate is $70 more per hour. We typically do NOT move pianos, hot tubs, or very large safes, up or down stairs.
**We do NOT cover damages due to water leaking from appliance disconnection or reconnections** (Washers, Fridge etc.). There are several reasons how a leak can occur. The homeowner is 100% responsible for checking and verifying ALL connections before using any water lines. **
All jobs have a two-hour minimum, pro-rated by the minute after the first two hours.
** If your home is larger than 2,000 sqft, OR has several garage & outdoor items, we recommend more than one crew. As a rule, we suggest 2 movers for every 1,500 sqft. If your space is larger than this, it will MOST LIKELY require more than one load to get everything **
Packing supplies
–
Wardrobe boxes, dish pack boxes, mirror or picture boxes are specialty boxes and are more costly than standard boxes. These specialty boxes are always good options, but not always necessary.  To save money, it is good to search for local boxes given away such as stores, or neighbors who recently moved. You can also move clothes in personal cars. Padded blankets can be used to protect the pictures, mirrors etc. Doing these will save money on packing supplies.
Book/Small boxes – $1.50 Each
Medium boxes – $2.35 Each
Large box – $2.70 Each
Tape / 55 yards – $5.00 Each
Packing paper (25lbs) – $17.00 Each
Furniture pads – $12 each
Additional services –
Move in/move out cleaning, reoccurring discounted cleans, steam carpet cleaning, roofing repair/replacement, gutter repair, construction/ remodel. Fully licensed and insured. 5-star ratings!
All payment is collected when the move is completed. You can pay with card or cash only (3.1% processing fee)